How to make a page on a Tumblr blog?
I received my first question from Grayson. She asks me about the very useful tool in Tumblr: creating pages. 

This is her question:
"You just answered my question on yahoo answers about getting a subpage of my pictures, and you told me to tag them. But firstttt, I don't know where to upload them to, or how to tag them.. Haha I'm so helpless"

Hi Grayson! First of all, I would like to thank you so much for contacting me and allowing me to help you. 

I assume you're new to Tumblr, so the first thing you need to do is post your pictures to your blog. Here's a separate tutorial on how to do this.

Once you have uploaded and tagged all the photos you want, head over to your blog. Simply click your blog's name on the top next to Dashboard and you are sent to a new page : 
Now click the customize appearance button (red arrow) and you will get another page. We are almost done, I promise. 
Scroll down and click "Pages" and then "add a page" (red arrow).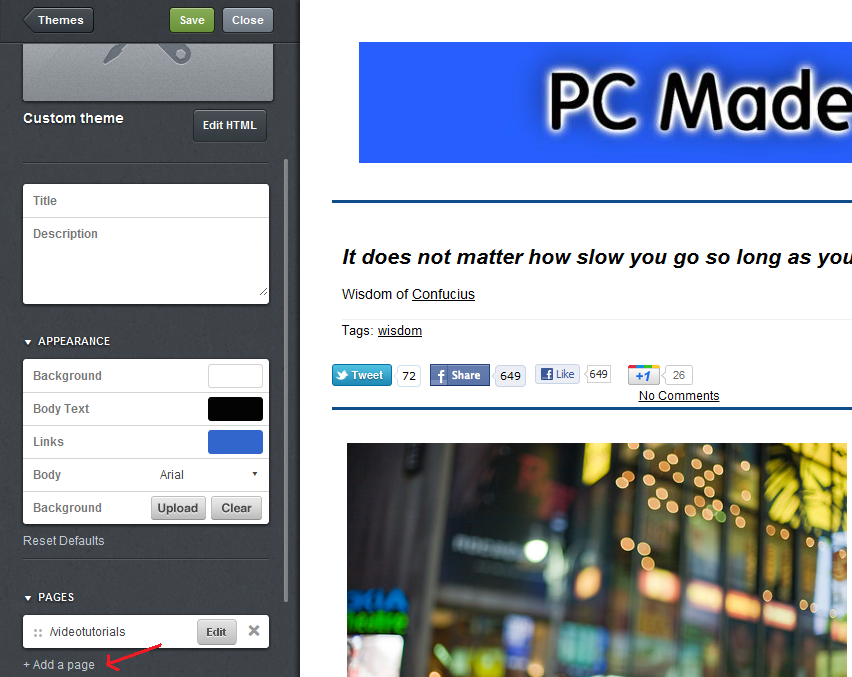 A small window opens and this is where you put what page you want to link in your blog. 
First thing you have to do is type the URL of your tag. You can find the URL by going to your blog and clicking on your desired tag found somewhere around a post you tagged with that particular tag. The URL usually looks like this: yourblog'sname.tumblr.com/tagged/your_tag. Notice that the box has your blog's url and you can't delete it, so you would just have to add tagged/your_tag.  EDIT: Tumblr now also let's you use use tagged/your-tag, so it's up to you.

Notice that when your tag consists of two or more words you will have a dash separating the words, so if your tag is something like "my photography" and you want to type the URL instead of looking for it, you would have to type it "tagged/my_photography". 

EDIT:  You might get an error saying "This page overrides a built-in URL" when you finish the "add a page" process in the form of a small circle with an exclamation inside of it (!) next to your page name in customize mode. This happens because Tumblr might have changed the usual way of adding tag links for some users or for everyone. This happened to me, but it might not happen to you. I can't know. 

If the usual way doesn't work for you, try this: give your link any name you want in the Page URL box such as photos. In the Page Type box, choose "Redirect" and finally type your link as simply tagged/your_tag. 
For example:
        
        YES: tagged/my_photography
         NO: yourblog.tumblr.com/tagged/my_photography
You can also simply put the html code for links in the description box like this if your theme doesn't support adding pages: 
<a href="http://www.yourblog'sname.tumblr.com/tagged/you_tag">photos I've taken</a>
————USEFUL INFO IF YOU WANT TO MAKE A DIFFERENT TYPE OF PAGE————
For the Page Type, you can choose the standard layout (which is the same one you have installed on your blog at the moment), a custom layout (you can add your own html layout code) or a Redirect. The Redirect option makes the link send people to another website out side of Tumblr. For example, you have a Flickr page with your photos and you want your followers on Tumblr to see it. You can send them with that link. For this example you would have to type the URL to your Flick page in the "Page URL" box.  NOTE: this paragraph is left here for information purposes only in case you want to do something else with a new page besides a tagged page since it doesn't work on these.

For the body you can type whatever you want or nothing at all. You will notice that Tumblr doesn't force you to type anything if you don't want to, which is very nice.
———————————————————————————————————————

Finally, make sure you check the "Show a link to this page" box and hit "Create page" and you are done! Make sure the link works by going on your blog and clicking the link. 

Every time you tag a post with that tag, it will automatically show up on that page. You can do this with any type of post, just make sure you tag them.
I really hope this tutorial helps you to start having fun with Tumblr. When I first opened my account I had no clue how to use it, so trust me, you will get used to it and hopefully you will have fun with all the other users. 

If you have any questions regarding this answer/tutorial, please don't hesitate in contacting me through the comments. If you have a different question, please contact me through the Requests section or send me an email to pcmadeeasymail@gmail.com and I will gladly help you. Also check out my YouTube Channel for more tutorials and follow me on Twitter, like my page on Facebook and add me to your circles on Google+ to get my updates. Also, as the question implied, you may now find me around Yahoo Answers answering questions everyday.
If you would like to ask me a question and have me show you step by step live, you can tune in to my Livestream Channel every Friday from 1:00-2:00PM MST.

Have a Good Day!